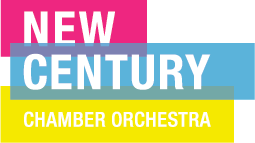 The New Century Chamber Orchestra, founded in 1992, looks for fresh, exciting ways to present classical music in the San Francisco Bay Area by combining performances of extraordinary quality with innovative programming. One of only a handful of conductor-less ensembles in the world, New Century is comprised of local musicians and those who travel from across the U.S. and Europe to perform in the Bay Area together. Musical decisions are made collaboratively by the 19-member string ensemble, resulting in an enhanced level of commitment on the part of the musicians to concerts of remarkable precision, passion and power.
As part of its dedication to the future of music, New Century has offered intimate classroom performances and interactive presentations to elementary school students in Marin County for over fifteen years. New Century's Education Program aims to give students an invaluable introduction to classical music and foster a lifelong love of music and its performance.
New Century musicians are active members of the San Francisco Bay Area community and have made appearances at San Francisco's City Hall and at the San Francisco Giants' AT&T Park.
The New Century Chamber Orchestra finds its home at Trinity†St. Peter's. If you would like to know more about them, donate, or find tickets to their performances, please visit the New Century Chamber Orchestra website.
Sorry, no events at this time.