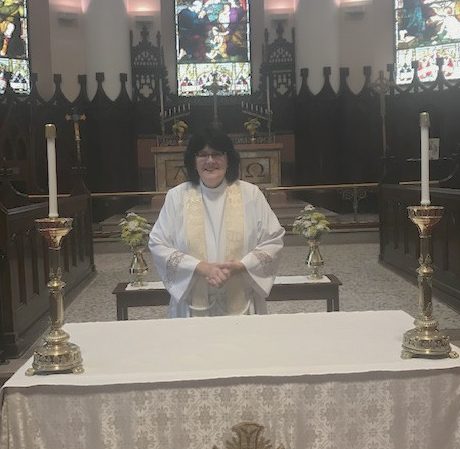 Reverend Izabella was born in St. Paul, MN and is a "second career" priest. She worked for many years as a Public Safety Communications professional in Minnesota. In 2008 she fulfilled a dream of owning a small hobby farm in western Wisconsin. In 2012, Rev. Izabella moved with her wife Marianna Sempari to the Bay Area to continue their seminary education at the GTU. Rev Izabella earned her Master of Divinity degree from the Church Divinity School of the Pacific (CDSP) in 2015.
Izabella was ordained in the Diocese of California to the diaconate in June 2017, and to the priesthood in December 2017 at Grace Cathedral in San Francisco by Bishop Marc Andrus. It is believed that Rev. Izabella was the first out and openly transgender woman to discern and be ordained priest in the Episcopal Church.
Izabella has served as chaplain with the Gubbio Project in San Francisco and completed a year-long course in Clinical Pastoral Education (CPE) at UCSF Hospitals in San Francisco. After ordination, Rev. Izabella served at St. James/Santiago Episcopal Church in Oakland when was called to be the vicar of St. Cuthbert's Episcopal Church in Oakland. She served St. Cuthbert's from August 2018 to October 2021.
California has become home for Rev. Izabella and her wife, Rev. Marianna Sempari. They enjoy getting out into the wilderness camping and enjoying God's creation whether it be in the country or in the city.