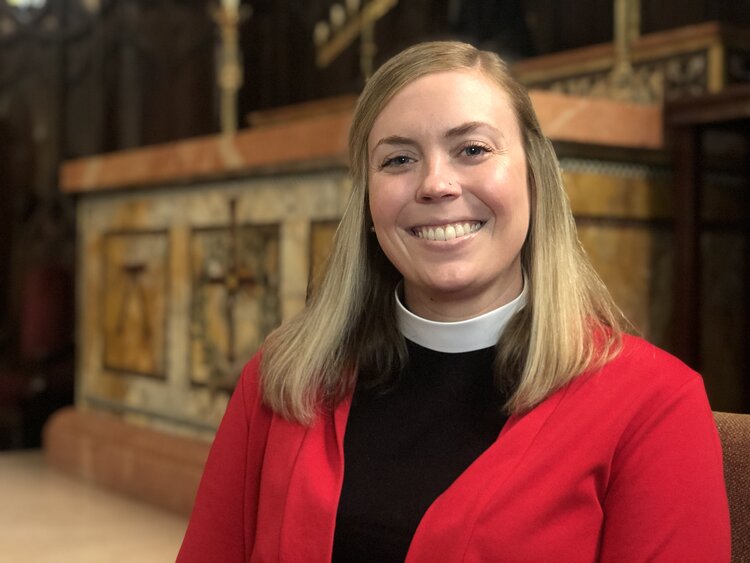 The Rev. Lindy Bunch (she/her/hers) joined the congregation of Trinity+St. Peter's as their Priest-in-Charge on November 10, 2019.
Born and raised in Columbia, SC, Rev. Lindy attended Wofford College and studied history, art history, German, and gender studies. After some time living, working, and organizing alongside folks in rural South Carolina, Lindy moved to Thailand in 2010 to gain more experience as an educator and social justice advocate. During her time there working for CIEE-Thailand, an innovative study abroad program that explored globalization and development from the grassroots perspective, she decided that she needed to learn how to integrate Christianity and justice.
In 2011, she started the Urban Ministry track at Wesley Theological Seminary in Washington, DC. After graduation in 2014, she worked as the Lay Assistant at St. Paul's Episcopal Church, Rock Creek in DC before moving to Palo Alto, CA to work as Associate Rector at St. Mark's Episcopal Church. Lindy was ordained to the transitional diaconate in the Diocese of Washington in 2015 and to the priesthood in 2016.
Rev. Lindy has a strong passion for people, for urban ministry, and for social justice. As a church, she believes that we must be willing to reach out beyond our walls and listen carefully to the Spirit moving through the city. God is already at work- will we meet God there?