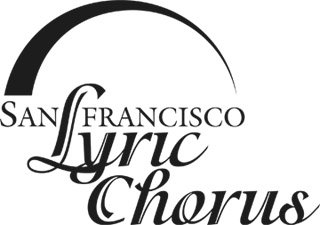 San Francisco Lyric Chorus is an auditioned, medium-sized, mixed-voice chorus that performs a diverse repertoire with an emphasis on classical choral music and rarely performed works. We are an inclusive and welcoming community of singers, committed to excellent musicianship and creative programming.
Music Director, Robert Gurney
Music Director Robert Gurney is Organist-Choir Director at San Francisco's historic Trinity†St. Peter's Episcopal Church, Assistant Organist at San Francisco's St. Mary's Cathedral, and Organist at Marin County's Temple Rodef Sholom.  Mr. Gurney is the Co-Founder of the San Francisco Lyric Chorus and has served as Music Director from its inception in 1995 through Summer 2009 and from January 2012 to the present.
A resident of San Francisco since 1978, he has been an active church musician, organ recitalist, vocal coach, and has served as Interim Assistant Organist at Grace Cathedral, and Assistant Conductor-Accompanist for the San Francisco Choral Society, the Sonoma City Opera and the Contra Costa Chorale.
A native of Ohio, he received his education at Youngstown State University and the Cleveland Institute of Music, studying conducting with William Slocum. At Youngstown, he served as Student Assistant Conductor of the Concert Choir that won first place in a college choir competition sponsored by the BBC.  In Summer1997, he was invited to participate in an international choral music festival Music Of Our Time, held in Parthenay, France, and directed by John Poole, Conductor Emeritus, BBC Singers.  He studied again with Maestro Poole in a June 2003 workshop sponsored by the San Francisco Lyric Chorus.
Robert Gurney has directed the San Francisco Lyric Chorus in innovative performances of little-known works by composers of exceptional interest.  The Chorus' Discovery Series has introduced an eight-part Ave Maria by Tomás Luis de Victoria, the West Coast premiere of Four Motets To The Blessed Virgin Mary, by Robert Witt, music of Amy Beach, including her monumental Grand Mass in E Flat and the Panama Hymn, written for San Francisco's 1915 Panama-Pacific Exposition, premieres of works by San Francisco composer Kirke Mechem, and the San Francisco Lyric Chorus' 10th Anniversary commissioned work, This Grand Show Is Eternal, a setting of naturalist John Muir's texts, by Illinois composer Lee R. Kesselman.
To learn more about the San Francisco Lyric Chorus or to find out about auditions, please visit the SFLC website. You can also donate to their organization by clicking here.
Sorry, no events at this time.